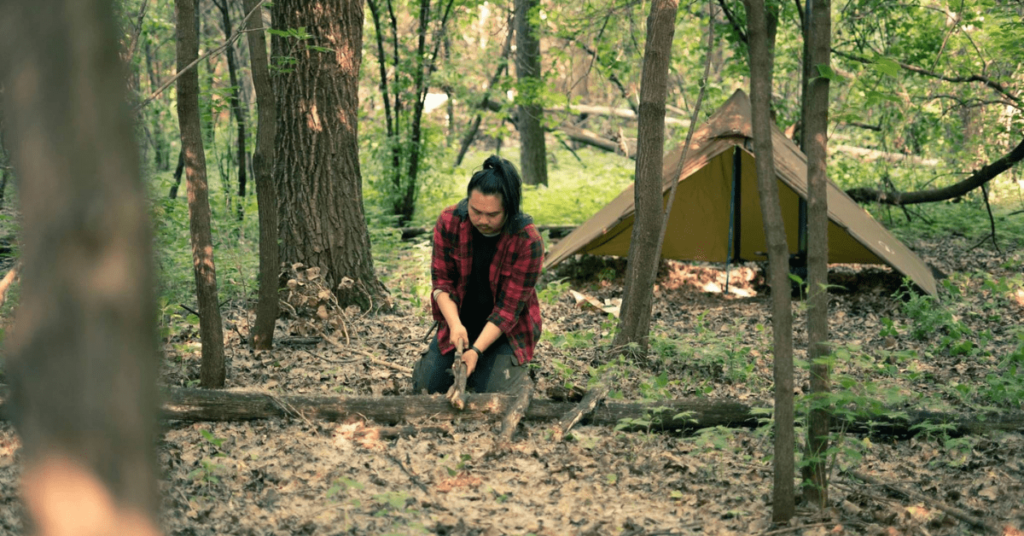 Some success stories are simply inspiring, and this one is no exception. So, let's begin this inspirational tale together.
My friend Tom, the creator of Clueless Bushcraft, currently has over 2 million followers on his Tik Tok page.
Let that sink in for a minute – that's a lot of followers!
At the end of 2020, he had only 240,000 followers and 5,000 subscribers on YouTube. So, how did he grow his following to the amazing group it is today?
From an artist to survivalist content creator on social media, he shares with us how he grew his empire and conquered the hurdles of success. Let's learn more about his inspiring journey together.
This post may contain affiliate links. If you purchase a product or service from an affiliate link, we may receive a small commission. This supports our website and there is no additional charge to you. Thank you!
Tom's Beginning: Blazing His Trail
I recently interviewed Tom on the Expanding Wallet YouTube channel.
During the interview, Tom sits in his shed filled with things like gourds, axes, seasonings, and masks. He explains to us the journey of how he got started to where he is now. He smiles often and is honest about his struggles. Tom's content focus is on self-reliance and outdoor survival techniques.
So, what can you expect to see if you follow him?
His videos show you how to start fires, preserve meats, make maple syrup, and flesh a deer hide. Many of his videos will even show you how to make some delicious meals from scratch and how you can actively survive off of your surroundings.
For those of us who are pretty reliant on microwaves and Instapots, this is pretty cool, right?
Tom says that he has always had a passion for the great outdoors and camping but is surprised that his success has gotten him this far.
So, what sparked his fire? He credits the video game Minecraft to spurring his interest. The game revolves around harvesting materials in the wild and building off what you can obtain, a true survivalist game where you create based on what you've collected. He also attributes much of his inspiration from other YouTubers and creators.
But it wasn't all wildflowers and rainbows from the beginning. When Tom began his journey, he could sense some hesitancy among those in his life. It seemed like a bit of a 'pipedream' to many. He was going down a road where not very many make it and one that usually isn't very lucrative. But that did not deter him. He simply brushed off those feelings and pursued his passions, eager to share his knowledge.
Tom began posting things on Snapchat but quickly realized that only reached his friends. He wanted to reach a larger audience and share his knowledge, which led him to Tik Tok and YouTube.
This was all about five years ago before his channels exploded in popularity. And well, the rest is history – but I'm sure you still want to learn more 😊
Tom's Big Break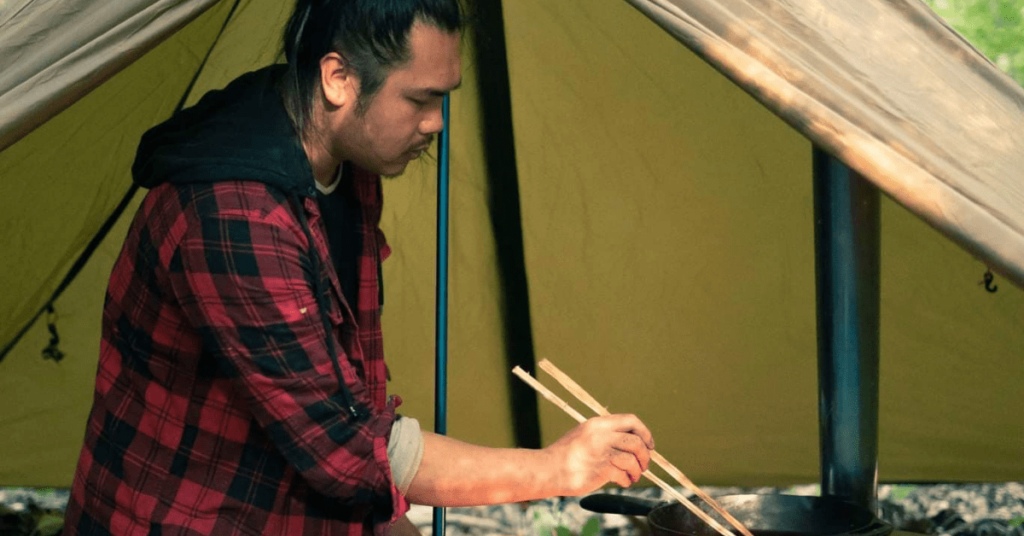 Tom attributes most of his success to being diligent and posting content regularly. At times, he was posting up to three to four videos a day. With the consistency of posting, he noticed that in three months he had hit ONE MILLION followers on Tik Tok – a massive accomplishment for any social media influencer!
It's no surprise that one of his favorite books is The 10X Rule by Grant Cardone. It's also one of my favorites as well and I recommend you read it or listen to it on Audible.
Once he was established within the community, Tom says he learned how to apply his skills in the most efficient way, by understanding his audience.
Not only did he obtain many followers through Tik Tok and get paid through the Tik Tok creator fund, but he was also still posting on YouTube and became a YouTube partner, meaning Google pays him. In addition, he has also gained multiple sponsorship deals via his social media platforms.
He is a multi-platform content boss!
But what was the true key to his success?
Tom says that he really began to appreciate his audience and what they were wanting, which reeled in even more followers…by the thousands! His content is ever-changing and evolving. And he recognized that in the first three seconds of a video you either keep or lose a follower, so he cut to his topic immediately, and gave the people what they wanted.
The best part about Tom is that he remains humble, yet ensures he follows up with his audience as much as he can.
He even checks his spam Tik Tok messages and tries to reply to comments to be engaging.
Tom truly has a passion for imparting his outdoorsy knowledge and collaborating with others to make a difference!
Tom's Tips for Success on Tik Tok: What Can You Learn from Tom?
Tom keeps it simple, and people simply love it! There's so much we can learn from the Clueless Bushcraft empire and its success.
Are you also looking to create a following on social media, or are curious about how to best navigate tackling such a large task?
Great! Let's take a sneak peek at how Tom unlocked the door to his own success and why it worked so well.
Create Constant Content
The best way to keep people involved is to keep them interested. If you only post one video every week, your audience is going to wonder where you went or what you were up to. Becoming a successful entrepreneur requires diligence. In the social media world, you have a lot of competition, so give your followers consistent videos to look forward to. Make yourself a daily content goal and follow through!
Provide Valuable & Quality Information
Give others a reason to follow you. Maybe it's for a good laugh at the end of a long workday, or maybe it's to learn survival skills like Tom demonstrates. There's such a wide variety of niches that you are sure to find yours. Choose one that you feel knowledgeable in and passionate about, and take your audience on the journey with you. Remember, you have a lot of others trying to achieve the same thing, so provide valuable information that raises the bar.
No Time to Waste!
Time is valuable, period. Yours and theirs. Tom stressed the importance of time, for both him and his followers, so make your minutes count. When it comes to Tik Tok you only have a maximum of 1 minute, and your viewers certainly don't want your first ten seconds to be you trying to set up your camera.
Tom also made the brilliant move of avoiding the "like for part two" trend, which kept viewers appreciating that they were seeing one video, one topic, rather than having to search for separate sections. Hook your audience and feed them information that keeps them coming back for more!
Evolve with Your Content
You're nothing if not flexible – and no one knows this better than Tom. Chances are your content will not remain the same if you are doing it for the long run. Even with topics that have a ton of information, sometimes we adapt to what people would rather hear or seem most interested in. This also applies to life circumstances, living situations, relationships, etc. For Tom, he noticed he must change his content according to the weather, which taught him the importance of adapting to scenarios.
Be Responsive
It can be overwhelming with social media to try and respond to everything happening while you are trying to come up with new content several times a day. But your viewers will be thrilled if you take the time to respond to their comments or messages. A lot of times people will reach out to you with ideas or questions that can become much larger than you think (like sponsorships or merchandise). Take the time to respond, but most importantly, make content that engages your audience so much that they WANT to comment!
That's a Wrap – Tom's Final Thoughts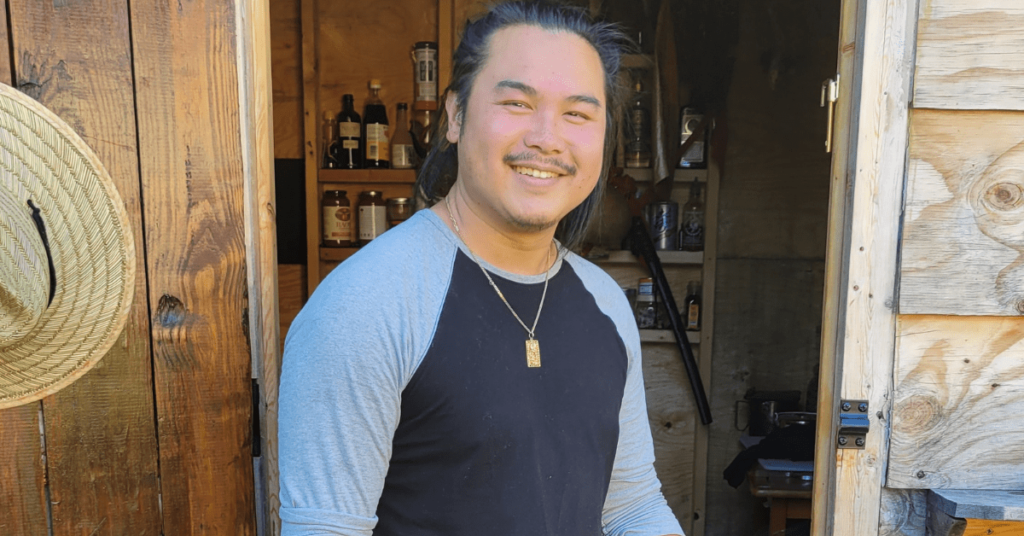 Tom has a wealth of knowledge to share – and it's more than just knives, axes, and fires! Tom also believes that accountability is important. He doesn't believe 'shadowbanning' happens on Tik Tok, which is the idea that Tik Tok limits who sees your content. His advice? Trust the algorithm. If you aren't getting a lot of attention on your videos, take a second to look at what you can do better.
But his golden nugget to success? Be accountable for the good AND the bad, and use it to pivot and grow. It's a small adjustment that will yield BIG outcomes! So, when it comes to your success, be a pioneer. Be original. Blaze your own trail!
To Learn More About Tom
To learn more about Clueless Bushcraft, check out his Clueless Bushcraft (@cluelessbushcraft) Tik Tok page and Tom's YouTube channel. You can also take a look at his website, which has a lot of great suggestions for survival gear.
Want to hear more about Tom's inspiring story?
Watch the full interview with Tom on the Expanding Wallet YouTube channel if you're looking to do BIG things online!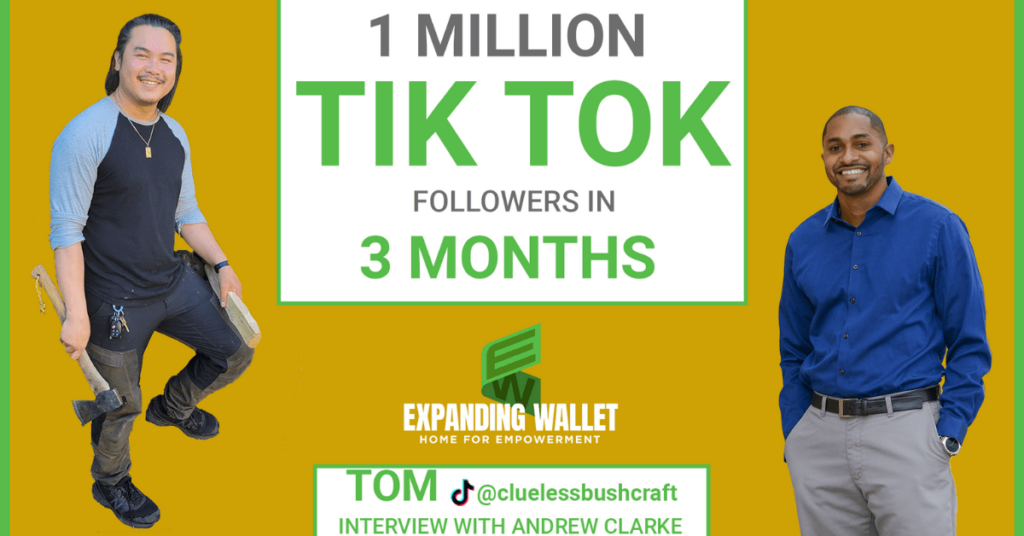 LEARN all that you can, BELIEVE in yourself, and take actions that allow you to GROW!
Get your FREE copy of the 5 Keys To Success Guide (click here).